Celebrating 30 Years
1993 - 2023
Fueling Opportunity for Small Businesses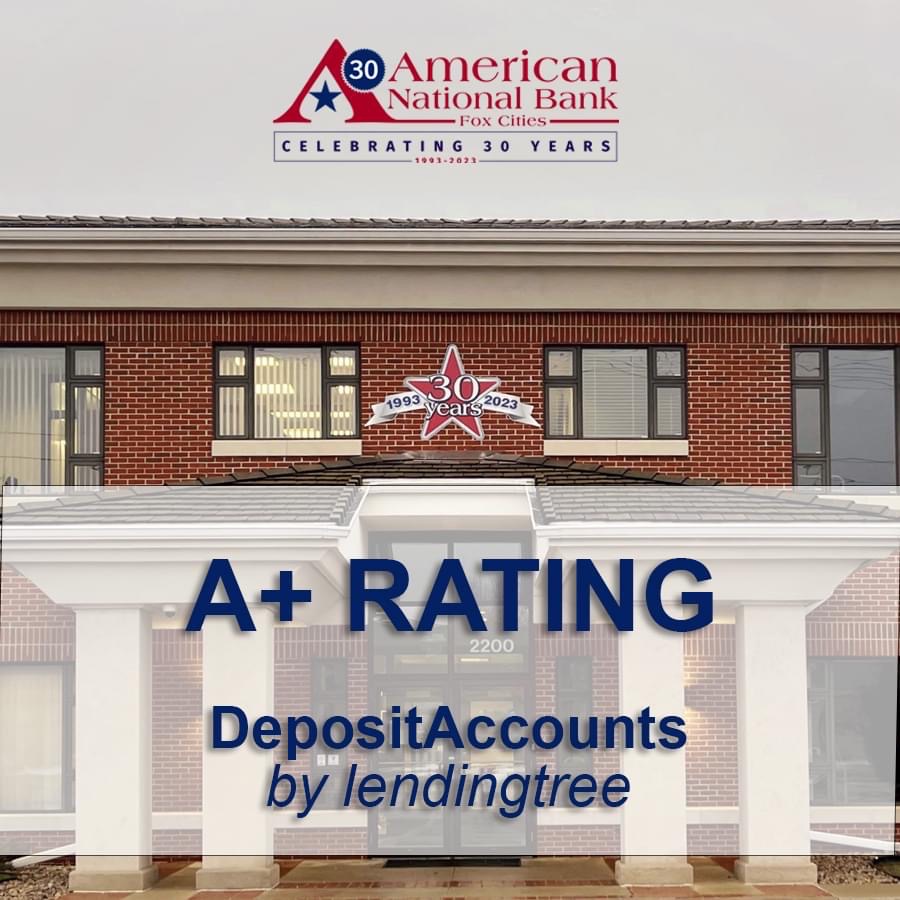 Now more than ever - bank locally.
Community banks have been serving the consumer, small business owner, and local farmer for over 100 years.
Our industry supported clients during the Great Recession, processed PPP loans during the pandemic (while other institutions couldn't figure out what to do), and will be here (safe and strong) to help clients with future challenges.
American National Bank Fox Cities has an A+ rating from Deposit Accounts.
Innovative Solutions to Help You Win
No matter what you strive for, winning is fun. In the world of business, winning is critical. We strive to be your "go-to" partner… your trusted adviser in all things business. After we learn about your goals and needs, we'll come up with a strong game plan. Then we'll incorporate techniques and strategies, along with our trusted partners, that will help you beat the odds.
The turning of the calendar is a natural time to pause, reflect and set intentions for the year ahead. We...
Read Now
When you dream of owning a home, the last thing you want is a complicated loan approval process slowing you...
Read Now
Have you been considering upgrading your technology and equipment? Not only will state-of-the-art tech attract new dental customers, but it...
Read Now
Bank locally. Earn some cash. Get paid to bank with us. Kasasa Cash® checking pays you for everyday banking. 3.00% APY on balances up to $15,000 when qualifications are met. 0.05% APY on balances even if qualifications are not met. Ask for Kasasa - American National Bank Fox Cities Click for details and disclosures.
Like You, We Had a Vision
We saw a need for a bank in our community that would focus on small- to medium-sized businesses — a bank that was willing to take a chance on the success of our clients by focusing on what is best for them.

Why We Exist Client Testimonials
Community Support
We are passionate about giving to our community—and are grateful for the personal and professional growth we have experienced in return. For over 25 years, leaders at American National Bank Fox Cities have encouraged employees to give back by supporting community events, programs and nonprofits, and have truly led by example.

Learn More